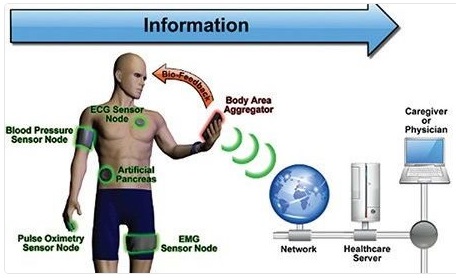 He states that "Our healthcare system won't be fixed by insurance reform. To contain costs and improve results, we need the tools of information age medicine." He goes on to say, "In medical training, private sector R & D, doctor-patient relationships and public policy, we need to be far more aggressively into the use of smart medicine, using high tech tools to tailor more precise and economical care for individual patients. The transition won't be easy or fast. The culture of medical practice is famously conservative, and new technology always raises more concerns, but it has to be part of the solution to our healthcare woes."
I couldn't agree more and in this blog, I will discuss additional indicators that point to the same conclusion. I will also discuss the evolution of wearables, moving from gadgets to medical grade healthcare monitors. I don't want to try to boil the ocean in this blog so I will focus on cardiovascular disease and its overall cost and managing hypertension more effectively, a leading cause of cardiovascular related disease when it goes untreated. A few statistics are in order before we dive in. Additional statistical facts on the impact of hypertension will discussed a little later in this blog.
The American Heart Association reports cardiovascular disease and stroke as the top two killers of American adults and cardiovascular monitoring, both inside and outside medical environments, is critical for diagnosis, proper treatment, and improved outcomes. The
Centers for Disease Control
Foundation predicts, cardiovascular disease related costs will cost the US healthcare system 1.1 trillion by 2030. A staggering number that will not be controllable unless the healthcare industries key stakeholders in brace automation and wearable smart sensor based technology.
Wearables (from gadgets to medical grade)
When the average person today thinks about wearables, they're likely thinking about counting steps on a FitBit or tracking movement on an Apple Watch. But a growing number of medical practitioners see potential for these devices to improve the delivery of care. There's a big difference when you develop a technology for a consumer application versus when you develop something that is clinical-grade. Significant clinical trials need to take place, and being 90% right is not acceptable. With lives at stake you have to be very careful about what you're predicting.
· Decreasing costs of sensors
· Miniaturization of physiological sensors
Integration of sensors into consumer-end devices and accessories
Rising share of ageing population
Increasing incidences of chronic and lifestyle diseases
Increased health and fitness awareness
Rise in home and remote patient monitoring
Reduced digital health costs
Accountable care organizations and reimbursements
Increasing mobile and smartphone penetration
Increasing patient/physician acceptance
Entry of big players such as Apple, Google, Microsoft and Amazon
Research firm IDC's
latest wearables report
forecasts major growth in the space going forward, predicting that the international market will nearly double to 240.1 million shipments by 2021.
The year-over-year growth comes as the gadgets evolve from novelties to more fully realized, useful devices. The release of Android Wear 2.0 and the continued success of the Apple Watch, as it pivots to focus on health, are the two biggest examples.
IDC research manager
Ramon T. Llamas
thinks the segment is at the dawn of a new age. "Since the market's inception, it's been a matter of getting product out there to generate awareness and interest," he said in the
release
touting the report's highlights. "Now it's about getting the experience right – from the way the hardware looks and feels to how software collects, analyzes, and presents insightful data."
Llamas thinks the market will expand in the future as these next-gen devices are made available, giving wearers functions far beyond the quaint step-tracking of earlier wearables. He expects that the features on our smartphones will come to our wrists (and other places we can wear stuff) in the future, like AI assistants and network connectivity, while base prices drop.
So where will we wear these smarter, cheaper gadgets? IDC guesses that your wrist will still be the most common place to put your tech in 2021, with watches and wristbands taking up 88.7 percent of the markets. Notably, the firm projects smartwatches won't perform as well as hybrid watches, so some of the
shade that has been thrown toward them
can be justified — at least until 2019, when cellular connectivity is expected to improve.
Other types of wearables will gain market share, too. Smart clothing could be the biggest space to see improvement, with an expected 76.1 percent growth rate.
Could there be even more growth?
There could be a wild card here to drive the success of wearables even further: Apple. The
current king
of the market's best-selling Apple Watch could ascend to even greater heights if it continues to evolve into a health-first device.
The company is rumored to be developing an innovative new feature for the watch that could make it an essential medical device for millions of people around the world.
Reports claim
Apple has a crack team of medical experts working to develop a non-invasive glucose monitor, which could come in the form of a specialized band. Tim Cook himself was reportedly spotted wearing a prototype
back in May
, and he has talked about the potential for the space and Apple's interest in its development.
If Apple can introduce the world's first non-invasive glucose monitor for the Apple Watch, the wearable would likely shift in the eyes of consumers with diabetes from a gadget to an essential medical device. There are 422 million people in the world with the disease, according to the most recent numbers from
WHO
. All those people obviously aren't guaranteed to buy an Apple Watch if it adds the new glucose tech — but they're just one example of a massive new consumer base in this new age of wearables.
A specific use case - Hypertension
I suggest that while non-invasive glucose monitoring is a big deal, hypertension kills 8 times more people and as of today is all but ignored as the single biggest killer. With that in mind lets dive into this global epidemic.
At home monitoring of Hypertension
Hypertension, the silent killer, is the primary use case. High blood pressure or hypertension typically has no symptoms, but it causes progressive harm to the cardiovascular system. When blood pushes with too much force through the cardiovascular system, it can damage the walls of the arteries as well as the heart muscle. Damage to the arteries that supply the heart muscle with blood can eventually contribute to a heart attack. Similarly, damage to the arteries that supply the brain with blood can contribute to a stroke, and damage to the arteries that provide the kidneys with blood can lead to kidney disease.
Knowing you have hypertension and managing it will prevent the onset of numerous chronic illnesses, save countless lives and help contain rising healthcare costs. Even if you don't care about how the IoT and Big Data may impact your daily life, I strongly encourage you to read how unmanaged hypertension can shorten your life and if you don't care about that how it might impact a loved one. The statistics used in this document come from the CDC and only consider the U.S. population. The global numbers are generally in-line with these statistics, but are far worse in under developed countries. The facts speak for themselves.
First the most current facts per CDC
In the US, around 70 million people have hypertension, with more people dying of hypertension-related cardiovascular disease than from the next three deadliest diseases combined. Regularly checking your blood pressure is the only way to know for sure whether it is too high.
Hypertension, or high blood pressure, is dangerous because it can lead to strokes, heart attacks, heart failure, or kidney disease. CDC, states that high blood pressure leads to over 1,000 deaths a day in the U.S. alone. Of the 70 million, less than half of them don't have it under control. Many with uncontrolled high blood pressure don't know they have it. Millions are taking blood pressure medicines, but their blood pressure is still not under control. There are many missed opportunities for people with high blood pressure to gain control. Doctors, nurses and others in health care systems should identify and treat high blood pressure at every visit.
High blood pressure costs the nation
$46 billion each year
. This total includes the cost of health care services, medications to treat high blood pressure, and missed days of work.
Controlling blood pressure must be a priority.
Why is blood pressure control so important to health?
When your blood pressure is high:
You are 4 times more likely to die from a stroke
You are 3 times more likely to die from heart disease
Even blood pressure that is slightly high can put you at greater risk.
Most people with uncontrolled high blood pressure:
Know they have high blood pressure (but do not check it regularly)
Should measure it daily (make sure you are using a calibrated device)
Record so you can track trends
Keep doctor involved and informed
Take prescribed medicine as prescribed
An easier more effective way to ensure these steps are followed.
By Dr. Glenn Hamilton, Chief Medical Officer, Sensogram Technologies Inc.
The SensoScan S340 is an accurate means of measuring Non-Invasive Cuff-less Continuous Blood Pressure (NICCBP). It is a fingertip device that continuously records BP, heart rate, respiratory rate, and pulse oximetry. The BP is derived from photoplethysmographic waveform analysis.
As a cuff-less continuous device, it has a unique potential to bridge between the needs and expectations of Precision Medicine. It supports data gathering of physiologic data in a variety of patients, populations, environments and settings. This data can be confidentially transmitted to the caregiver with the permission of the patient. It offers information tailored to the individual that has simply not been readily available in the outpatient setting to date.
Using this technology is consistent with patient willingness (80% of polled) to share wearable health tracking device data with their physician to improve the understanding and status of their health and wellbeing. It also offers a competitive advantage, as most physicians are not using telemedicine or wearable technology in their practice.
1
. The Initial Screening Assessment
– Observing a patient's physiologic data both in the clinical setting and during activities of daily living can offer better initial insight into the individual's lifestyle, basic physical conditioning, and potential for significant disease, especially hypertension and its complications.
2. A
nnual Physical
– 24-hour monitoring can be part of this review. Knowing the patient's baseline can direct specific activities and testing to reinforce positive behaviors, as well as uncover advice not followed due to lack of understanding, fear, or poor initiative.
3.
Creating a Vital Sign Signature with Parameters
- Once a pattern of response to specific exercises or environments is understood, the parameters established can be used to assess the patient during other activities that make duplicate or exceed prior experience. This is useful for human performance assessment, athletic conditioning, or determining underlying problems revealed by physiologic stress and warranting review.
4.
Inclusion of Data in the Electronic Health Record
- this automated function improves the quality of the chart, and provides additional data for referral sources or medical status inquiries.
5.
Monitoring a Medical or Surgical Intervention
- essentially all medical/surgical interventions require some degree of follow-up. Doing so can show evolving problems early in their course, determine patient compliance, prevent costly readmission, improve the patient's sense of being 'cared for' and secure the physician's awareness of the patient's status after returning to their natural environment.
6.
Improving Patient Buy-In with the Health Care Process
- better patient awareness, clearer involvement in self-care and therapy, immediate feedback on progress or problems; all are part of an improved patient commitment to the healthcare program.
7.
Cost Effective Practice
- the more one understands about the patient, and the more the patient cares about the care, the better the chance for an optimal cost conscious care outcome.
It aligns with the anticipatory and preventative goals. The SensoScan S340 Vital Signs Monitor can serve as a signpost for other ideas by innovatively applying its unique cuff-less continuous monitoring capability.